Clicking
View All
displays all results and may take longer for page to load.
adidas Boost Shoes
These trendy shoes feature the awesome hybrid EVA/Boost midsole for superior energy return and cushioning. They may not have been made for a soccer field, but they are great for those players who are looking to go the extra mile with their off the field training. They are also great for the soccer coaches or parent that are always on their feet running to and from practices and games.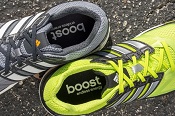 The Story Behind adidas Boost Technology
Adidas have broken the rules by making shoes that are both soft and responsive. How is this even possible? Adidas have brought this innovative idea to life with the introduction of adidas Boost running shoes. The foam that makes Boost so innovative is called Infinergy. Infinergy is a TPU foam produced by BASF, the largest chemical company in the world. It started with a simple idea over a coffee break. BASF partnered with Adidas on the revolutionary foam and inserted this technology into a shoe. Infinergy is an incredible breakthrough in the comfort and responsiveness of running shoes. Around 2,500 tiny oval elastic bubbles make up the midsole of the boost shoe. These bubbles, store up energy when you run and boosts you through your run. Tests have shown that the Boost running shoes are three times more temperature-resistant than standard EVA foam. So, whether in oppressive heat or bone-chilling cold, you shouldn't have to worry about your Boost shoes holding up. Great things are in store for adidas Boost footwear... Read the full article!